Equinor ASA Summer Internship 2021 – Renewables – Virtual Norway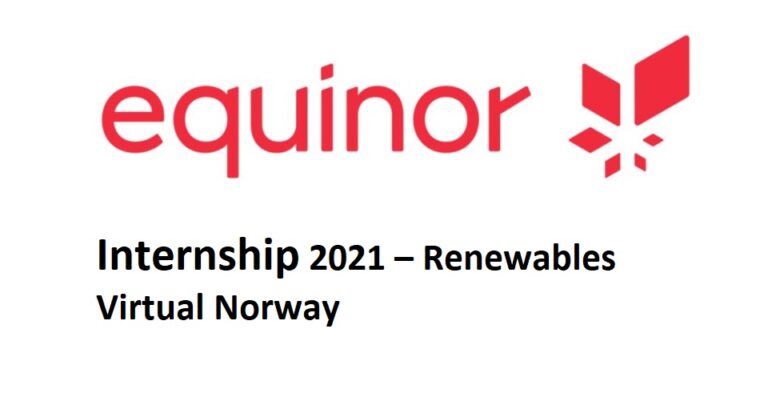 Equinor ASA Summer Internship 2021 – Renewables – Virtual Norway
Job ID: 17736
Country: Norway
Location(s): Virtual Norway
Company: Equinor ASA
Workplace: Onshore
Discipline: Renewables
Education Preferred: Not Indicated
Experience Preferred: Less than 1 year
Closing Date: Jan 7 2021
Job Description
We're Equinor, a broad energy company with 21,000 colleagues committed to developing oil, gas, wind and solar energy in more than 30 countries worldwide. As the largest operator in Norway, a leading international offshore operator and a growing force in renewables and low-carbon solutions, we're shaping the future of energy.

We'll need to be a leader in the energy transition in order to meet an increasing demand for energy in a more sustainable way. It's one of the biggest challenges facing humankind today, and every business area, team and project plays an important role in meeting this challenge. Our summer internships are no different.

Do you want to contribute to shaping the future of energy?

The Equinor summer internship is a 6-week virtual programme designed to give you the experience and skills you need to approach your career with confidence. The programme for 2021 starts on 21 June and finishes on 6 August 2021. In this period, you will have one-week holiday from the 19 July to the 23 July 2021.
#LI-DN
Job Description
Equinor's renewables business reflects our long-term goal to complement our oil and gas portfolio with profitable renewable energy. We are on track to become a major player in the global offshore wind business. In parallel, our ambition is to become a market-driven power producer from multiple renewable energy sources (solar, onshore wind and energy storage) with a significant position and capabilities in 3-5 power markets by 2030.

Successful candidates will work within one of these areas in renewables:
– Commercial, Business Development
– Technology and Research.

Your exact assignment will be decided based on our business needs combined with your field of expertise and your interests.
Qualifications
All students applying for an internship in Equinor must have the necessary work permit for the country in which, and at the time, they are applying for a position. The interns need to be located in the country where the internship takes place during its full duration.

• No more than one year of relevant fulltime work experience (please note research under a PhD are not be considered relevant experience).
• Have completed at least 2 years of relevant bachelor studies by the time of the commencement of the internship and are currently enrolled in a relevant study programme.
• Fluent in English
• International work and/or study experience preferred
• Extracurricular activities and/or voluntary work is an advantage

Relevant education:
A wide range of studies are relevant both within technical, and commercial disciplines such as Electrical, Mechanical, Civil, Energy and Environmental engineering, Renewables Engineering, Strategy and Business development, Physical sciences, Sustainability, among others
Personal Qualities
· Ability to live by our safety and security expectations
· High ethical standards
· Good communication skills
· Global mindset
· Team player with the ability to work and deliver results in a diverse environment
· Have a positive attitude to take on new challenges and adapt to dynamic environments
We Offer
Hands on experience
You'll spend part of your internship working on tasks and projects within the discipline you've applied for, giving you first-hand experience of the strategy, processes and culture in your team. Your hiring manager will be your main point of contact but you'll also be allocated a buddy who will provide additional support.  

Multidiscipline project delivery
The remainder of your time will be spent working on a group project with other students from a variety of academic backgrounds. Supporting you on this project will be a subject matter expert who will act as a mentor and advisor to your task.  

Learning and development
We'll be delivering a series of learning sessions that provide an overview of our business and introduce you to some of the processes and methods we use at Equinor. These will include introductions to key areas of our strategy such as digitalisation, low carbon projects and our approach to safety and sustainability.  

Protecting your well-being  
We're constantly developing our flexible working policy to meet the increasing demand for remote working, so you can be sure that your health and well-being will be a priority during your time with us. We also recognise that your summer internship is an opportunity to make connections that could last your entire career. That's why we'll be introducing many of opportunities to socialise virtually with your fellow interns.
You can find out more about the programme structure and hear from our 2020 virtual interns at our summer internship careers page – Find out more.
General Information
To ensure an efficient recruitment process, please be informed that you may apply for a maximum of three summer internship adverts.

Make sure that we are able to give your application consideration. Please make sure that when applying, you attach the following:
• CV/ resume in English
• Cover letter
• Transcripts of records (or other documents describing subjects and grades) obtained to this point during your studies in English or Scandinavian language. If you are in the process of completing a degree, please upload an official temporary transcript.

Applications submitted without these attachments will unfortunately not be evaluated

All permanent and temporary hires will be screened against relevant sanctions lists to ensure compliance with sanctions law and increase security.

Candidates are expected to openly offer all relevant information about themselves during the recruitment process.

For technical issues and other queries please contact us at [email protected]